YOU ARE INVITED TO JOIN US
DRAW'S 28th Annual Auction
WHEN: SATURDAY, JUNE 1, 2013
WHAT: AUCTION – THERE IS NO CHARGE TO ENTER
AUCTIONEERS – JACK BECKMAN, 2012 FUNNY CAR CHAMPION & STEVE LIBBY, OZARK MODELING GROUP
Come look around, and find that item you "must have"
Live Auction –
WHERE: PRO PIT - DonSchumacherRacing's Army/NAPA Hospitality Area
(Drinks and Snacks Will Be Available)
The Drag Racing Association of Women provides assistance to drivers and crew members injured in a drag racing accident at a track.
The Drag Racing Association of Women needs volunteers to work the DRAW Booth at every NHRA National event. If you volunteer to assist at the booth for a race weekend you will get a FREE general admission ticket for the race!
Its a great way to help out one of the oldest and best charity organizations in the drag racing industry plus see and feel the sounds of the track for FREE!!
__
__
__
__
__
__
__
__
__
__
__
__
__
__
__
__
__
__
__
__
__
__
__
__
__
__
__
__
__
__
__
__
__
__
__
__
__
__
__
__
__
__
__
__
__
__
__
__
__
__
__
__
__
__
__
__
__
__
__
__
__
__
__
__
__
__
__
_
Make sure to visit the DRAW Booth at every NHRA National Event this 2013 season!
The Drag Racing Association of Women will have a booth setup at every NHRA Mello Yello Series National Event this 2013 drag racing season!
The booth is located in the Holley,K&N Filters and Lincoln Welders display on the manufacturers midway. Look for the DRAW sign under the black awning. You can buy ladder sheets for all the classes. Purchase all types of DRAW hats, pins, jewelry, shirts, etc. at the booth. You can also find all the Division shirts, pins, stickers and patches there.
Stop buy and say hello to all the volunteers and make a purchase or a donation to DRAW!
Photo Album Gallery Place Holder - Please wait while the Photo Album loads. If the album does not show, please refresh the page to try again.
The History Lesson

by Deb Thompson
I have written in this column about the birth of DRAW and the structure
of DRAW. You know the beginning and foundation of DRAW. But in
order to actually give financial assistance to the injured racers, money
needs to be generated. In 1985, besides selling T-shirts, hat pins and a
celebrity cookbook, the first Indy BBQ and auction was established. It was
held during the US Nationals from 1985 through 2001. In 2001 the auction
was moved to the Chicago race. Eventually in 2011, the auction was
moved to the Englishtown event with only a live auction taking place now.
This auction for 2012 brought in $23,515.00 for DRAW. In addition to this
auction, there was a Style Show and Auction started in 1986 at the Texas
Motorplex in Dallas that still continues to bring in a great crowd. For 2012,
the Dallas auction made $96,200.00. Besides these 2 major events, there
have been and currently are many other activities being done to raise
money. Some include the return address labels and Christmas cards received
in the mail asking for and receiving donations for DRAW. There have
been golf tournaments, wine tasting, the Divisions of NHRA and racing
organizations that have raised money for DRAW by holding local events,
the annual Pet Contest, people making donations honoring someone. There
are the DRAW booths, both national and divisional, with so many items
available for sale. Through the years those items have changed with some
discontinued items now a part of history, part of drag racing memorabilia.
Jewelry seems to be the top sales items currently. And of course, the 50/50
raffles (as well as other types of raffles) have been a great source of revenue.
Volunteers work very hard to make these things and many others
profitable for DRAW. You may look at those figures for the money made
at the 2 auctions in 2012 and think that is quite a bit of money. And while
indeed it is, consider that in 2011, $189,000.00 was paid to help 40 families.
This past August 2012, $25,000.00 was paid to help 12 families.
Unfortunately, the need for DRAW will always be there. It must be the
mission of all of us to be sure we can continue to support these injured
racers for years to come. I seem to conclude each time with one thing…
the volunteers and supporters of DRAW. We are a big organization with
big goals and demands that need to be met to help injured racers. Volunteering
and supporting come in all sizes. Keep those injured racers in mind
when shopping for a gift (DRAW items, jewelry), when deciding on your charitable
contributions for the year,when at a track and you hear "get your 50/50 raffle tickets,"
when buying a birthday card (pick up some "thinking of you/get well" cards to send to
injured racers), when walking past the DRAW booth at a national event (stop to say hi and
see if Rosalee, our Fund Raising Chairperson, and her husband, Terry, might need your
help). Little deeds accomplish great things.
________________________________________________________________
DRAW sends a big "THANK YOU" to Rodger Brogdon
for the St Patty's day shirts!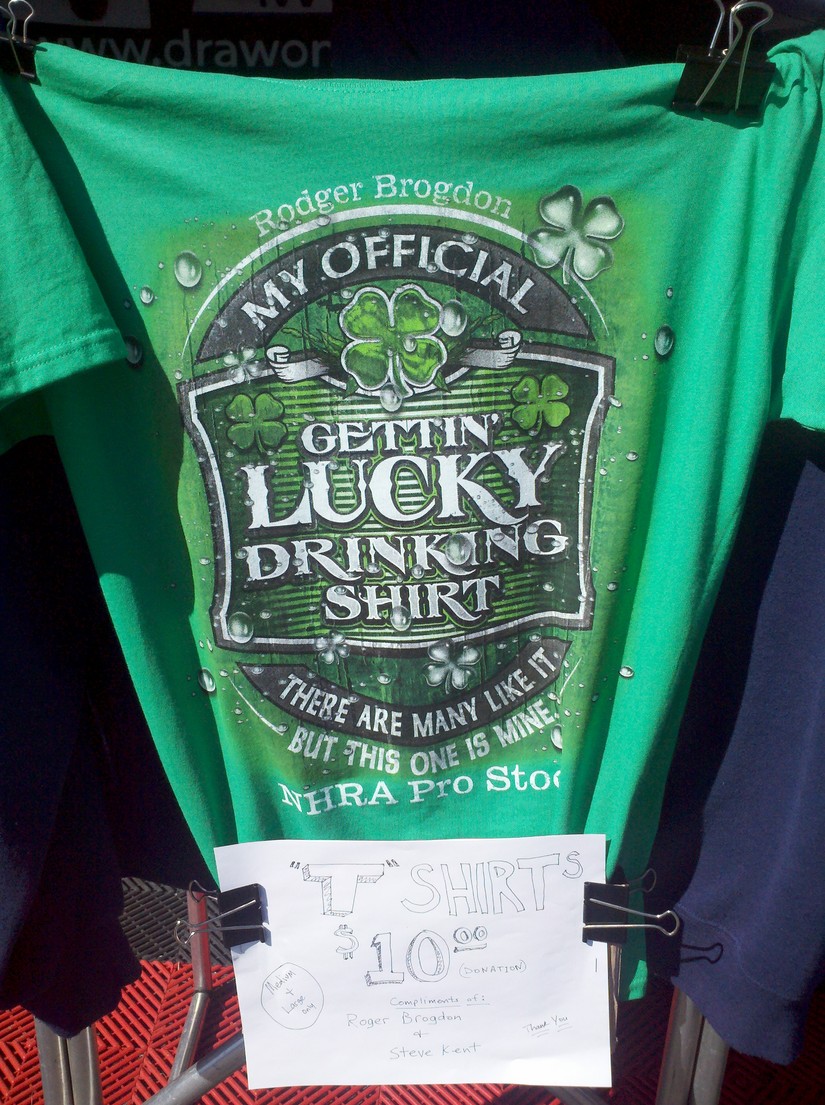 Gainesville, Fla.- Rodger Brogdon and Steve Kent donated a large box of their "Getting Lucky Drinking Shirt" to the DRAW Booth at the Gatornationals. They were a huge hit and sold out early Sunday morning! Again a big thank you to Rodger and Steve for their generous donation for the St Patricks Day weekend.
DRAW enjoys success with 17th annual Florida Golf Tournament
GAINESVILLE, Fla. (March 13, 2013) – The Drag Racing Association of Women completed another successful Florida Golf Tournament on March 13 before the opening of the NHRA Amalie Oil Gatornationals at Gainesville, Fla.
The 17th annual event was the first major fund-raiser of the season for DRAW, which provides financial and emotional support to qualified individuals involved in drag racing accidents at a track.
The following are tournament winners:
Team: Jeff Kundratic, Mark Young, Tim Heath, Bubba Linke (Flight A); Jeff Adkinson, Mickey Whaley, Jared Kimbrough (Flight B).
Longest Drive: Karen Miner.
Closest to the Pin: Bubba Linke.
DRAW also thanks event sponsors for making the event a success. Tournament sponsors include: Lucas Oil Products, Lincoln Welders, Jeff Taylor Performance, J.W. Performance Transmissions, Quick Fuel Technology, Adkinson Motorsports, Clark Copper Head Gaskets, Don Schumacher Racing, Holley, Jeg's, K&N Filter, Mickey Thompson Tires and Wheels, MTS Mail for Wounded Warriors, Kendall, Cruz Pedregon Racing, BPL, Comp Cams, Edelbrock, Geico, Goodyear, Grime Boss and Optima Batteries.
To become part of "Fast help for fast friends," visit drawonline.org.
For more information of future DRAW events, contact Rosalee Noble (217) 345-6537 or rnoble@consolidated.net.
Photo Album Gallery Place Holder - Please wait while the Photo Album loads. If the album does not show, please refresh the page to try again.
Sign Up for our Email Newsletter


E-Mail Address Correction Form
This will be the last Newsletter that will be delivered by mail to those of you that want it delivered by e-mail. It is
imperative that we have your correct E-Mail address to insure that you continue getting this publication.
Please, if your e-mail on the front of this newsletter is incorrect or missing, please fill out this form if you wish to
have your newsletter mailed electronically each month. Be sure to print as legibly as possible to ensure that we get your
e-mail correctly entered in your membership record. This will insure a timely delivery of the newsletter via the internet.
For the Members that still want mail service, it will continue as normal in February. We rarely have a newsletter in January and it is very likely that will be the case again this year. February 2013 should be the next newsletter both electronically and by Postal Service.
Members Name __________________________________________
Membership Number ______________________________________
can be found on front page above your name
________________________________________________________
Confirm E-Mail Address
__________________________________________________
Mail this form to:
or e-mail the above information to Olan at:ola

n@jograp
hix.com.
Sign Up for our Email Newsletter

MissionFish is becoming PayPal Giving Fund

MissionFish is now PayPal Giving Fund
100% of every donation will reach the nonprofits we serve.
Since 2003, MissionFish has been dedicated to helping nonprofits create new
sources of unrestricted revenue by making it easy for people to give as part
of their everyday life. In the nine years of partnership with eBay Inc., we
have helped generate over a quarter billion dollars for nonprofits through
the eBay Giving Works and Donate with PayPal programs.
Throughout this incredible journey, we have constantly looked for ways to
improve our service and expand our impact. In 2011, eBay set up a new
nonprofit organization - PayPal Charitable Giving Fund - to operate
MissionFish and help further our charitable purposes. Since that time, the
technical and operational support of eBay's family of businesses has helped
us realize unprecedented success.
Today, we are thrilled to announce a significant new commitment from PayPal
that will have a tremendous positive impact on our efforts going forward.
PayPal's financial support will enable us to deliver 100% of every donation
we process globally. And, it is only the start of greater things to come.
PayPal will be investing in further enhancements to our platform so that we
might leverage the incredible benefits of their technology and payment
systems to inspire and enable more giving around the globe.
To reflect PayPal's incredible commitment to our organization, and our
common vision for inspiring and enabling more giving around the globe, we
are officially changing our name to PayPal Giving Fund. We look forward to
continuing our service to your organization under this new name.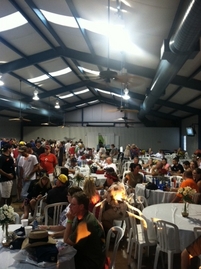 DRAW held its Annual Fall Auction at the Texas Motorplex in Dallas, TX, on September 29. As usual, the staff of the Motorplex was very accommodating. Billy and Debra Meyer, owners of the Texas Motorplex, provide the facility and finger foods for the event. Plus, Billy always seems to bring someone with him that is willing to spend some money. Billy is a man of his word when he told Rosalee prior to the starting of the event; "This is going to be the biggest yet." It truly was. $96,200 is the most we have raised at a single auction since we left Indy. One of the exciting part of the auction was when John Paul DeJoria, Alexis DeJoria's Father, stood up and said he wasn't there to bid he just wanted to donate $5,000 and challenged others to do the same. Rodger Brogdon and Billy Meyer each responded. Billy said Paul Candies would also like to make a donation. Of course, that set the stage for
the evening. The high dollar item was a picture of Ashley Force-Hood that was purchased by her Dad for her Mother. A lot of the pro drivers were in attendance which added a lot of excitement to the evening. Of course, Bob Frey and Alan Reinhart were at the top of their game. Working the crowd and getting top dollar for the items offered up for bidding. An event like this cannot be put on without the volunteers. Thanks to the following volunteers: Vicki Aswege, Linda Bianco, Diane and John Cole, Karen and Rodger Comstock, Hunter Cox, Bob Frey, Judy and Olan Gotcher, Beth Hyatt, Allison and Bill Kuhn, Sarah and William McLemore, Rosalee and Terry Noble, Eric Pearson Beth and Mickey Prestridge, Alan Reinhart, Lance Sissom , Lynn Van Vallis, and Yokie VanVallis and Yvette Williams . Thank you to everyone who donated to the auction; attended the auction; and of course, the bidders.
____________________________________________________________________________________________________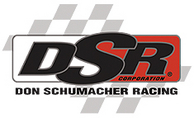 During the World Finals in 1984, a card table was set up selling raffles tickets, T-shirts etc to aid Shirley Muldowney after her horrific accident in Canada that year. If money could be raised to help 1 person, why not help all the injured racers! As most of us in this room know, this was the beginning of DRAW.
At the 1985 US Nationals in Indianapolis
, DRAW held it's first BBQ. DRAW Founders: Holly Beadle, Linda McCulloch, Lynn Prudhomme, Laura Earwood, Diane Hedrich, Janie Oswald, Pat Gartlits, Gere Amato, Penny Beck, Etta Glidden thought adding an Auction the following year would be a great idea.
Over the years, as personal/racer and sponsor demands were added to our sport of drag racing, it became increasingly harder to put on the BBQ & Auction at Indy and have good participation. It was decided by the board in 2000 to move the spring auction to the new track being built in Joliet. We fought mother nature for many years there. Rosalee and I never knew if we should order fans or heaters to help keep the attendees comfortable. Then the tornadoes decided to participate and the board knew we had to do something different. It was decided to move the auction to Englishtown! Lori Ann of Castrol was gracious enough to let us use their tent In spite of their generosity, we incurred additional costs that subtracted substantially from the profit. But with these few growing pains, the auction succeeded in bringing in additional aid for injured racers.
As I mentioned there were a few growing pains, and Mike Lewis, VP of Don Schumacher Racing, came to me and said "what exactly do you girls need". Our needs were pretty simple, He spoke with Don Schumacher who gave the green light, and Will Truit, GM, Kim Kries & Jeff "Gypsy" Mohr of Hospitality informed their troops that DSR would be hosting the Spring DRAW auction. With This new addition of DSR hosting us in one their hospitality facilities, right in the middle of the pits where everyone could easily find us, with lights, fans, tables, chairs, and no additional labor or costs to DRAW, we were able to once again raise funds for injured racers. DRAW had over 100 happy participants to the spring auction in 2012.
This year's recipient of Company of the Year goes to Don Schumacher Racing!
____________________________________________________________________________________

This year's DRAW Person of the Year became a member of the NHRA community a few years ago. Early into his first race season with NHRA, he became involved with DRAW when he helped put DRAW in touch with the family of a sportsman racer who had died in a racing accident. From that time on, he has been a very active supporter and a good friend to DRAW. He publicizes DRAW on his Face Book page and was the driving force behind the helmet, which brought top dollar at last year's DRAW Auction. This year's DRAW Person of the Year is Terry McMillan
____________________________________________________________________________________
DRAW Volunteer of the Year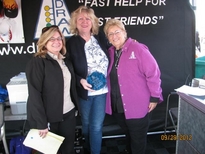 This year's DRAW Volunteer of the Year has been an Area Coordinator for 15 years. In addition to her activities as an area coordinator and doing fund raising in her area, she has been the keeper and mailer of WARD Bear. WARD Bear, who is stuffed with love and prayers, is sent to each of the injured racers to keep them company throughout their recovery. Deb Pearson is DRAW's Volunteer of the Year.
________________________________________________________________________
SIT ON THE COUCH FOR A CAUSE By Bob frey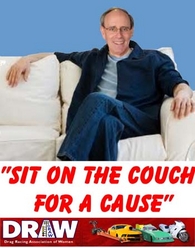 The great American "Sit on the Couch for a Cause" is now history. Ok, so maybe it wasn't the great "American" Sit-In, but it was big news in the Frey household. After months, make that years of preparation, I finally sat on the couch for a reason (as opposed to sitting on it for no particular reason), and that reason was to raise money for DRAW, the Drag Racing Association of Women, the great group that raises money to help injured racers. Earlier this summer I announced that I was going to raise money for DRAW by doing nothing, and as far as I can see nobody does nothing better than I do. Without going into all of the details let me just say that we raised over $5,000 for DRAW thanks to the contributions of over one hundred people, and the donations ranged from $1 to $750. On behalf of DRAW I would like to thank everyone who contributed and those who supported the cause. Now I have to say that this was a lot of work and I'm still recovering from hours on the couch this past Sunday, so while I don't know if this will become an annual thing I do want to thank everyone for making it a very successful venture this time. Hey, let's face it, where can you raise that kind of money by doing nothing? That raises money to help injured racers.
Honoring Bill "Grumpy" Jenkins
To Friends of Bill "Grumpy" Jenkins - per the Jenkins family's request, if you would like to make a donation to DRAW in memory of "Grumpy" you can go to the Donate Page. You may print the form to mail with a check or money order or make a donation on-line.
________________________________________________________________________________________________
Committee and Volunteer Opportunities for 2013
In 2013, DRAW will mark its 28th year of providing "Fast Help for Fast Friends." It takes the time and talent of many people to make our mission a reality. There are many ways you can help make 2013 DRAW's best year ever.
DRAW's lifeblood is dedicated volunteers. You can make a valuable contribution to DRAW by joining one of our committees:
Website, Newsletter, Membership, Fundraising, Injured Racer Calling
, and others that might arise during the year. If you are interested in volunteering or joining one of DRAW's committees, please submit an
application
to Tracy Winters, 1808-1826 Baldwin Street, Rockledge, FL 32955, 321-632-6205 x 13,
tracyw@racewithjw.com
.